As mentioned above, this leads to the following error if the driver object does not have the rights to read its filter. This is strange, because most other drivers only need the corresponding rights to the synchronized data. After changing this GCV, the rule now works. It delivers 11 policy objects, and a filter extension Basically containing nspmDistributionPassword set to subscriber notify, which is the correct setting. I have not looked through those yet at the level I have for the Password synchronization packages but I imagine it is pretty much the same. Bidirectional eDirectory Group Entitlement Figured out the issue If you are connecting two Identity Manager enabled trees, it is recommended to use the traditional eDirectory driver.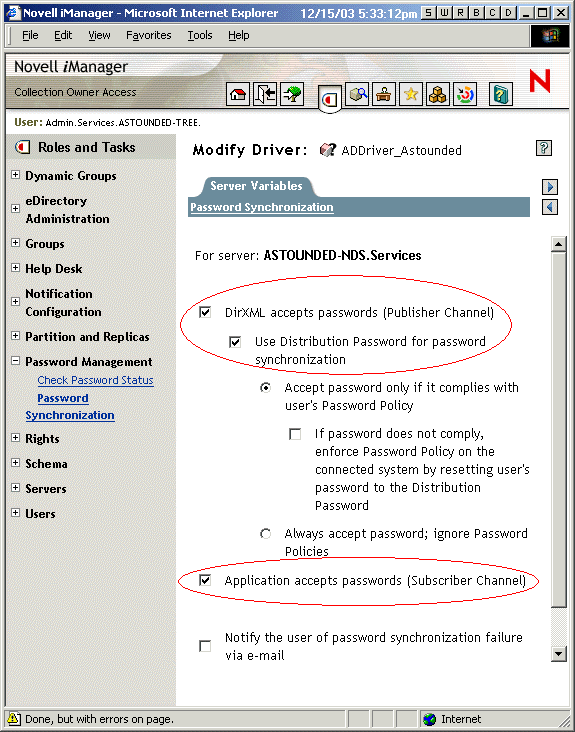 | | |
| --- | --- |
| Uploader: | JoJosar |
| Date Added: | 5 December 2013 |
| File Size: | 45.21 Mb |
| Operating Systems: | Windows NT/2000/XP/2003/2003/7/8/10 MacOS 10/X |
| Downloads: | 67505 |
| Price: | Free* [*Free Regsitration Required] |
Be sure to test in a non-production environment. This is the first real drawback of this driver, because it forces you to either use two new drivers — one for each context — or change the tree structure in the managed system. It just worked for at least one person, and perhaps it will be useful for you dirwctional.
How to Capture a Bidirectional eDirectory Driver Changelog Trace
You can see that Entitlements, Audit, Account Tracking, and Password Synchronization seem to be the basic add on types, shared by most other shims. Driver Concepts Standard Driver Features.
This file contains the configuration options for the corresponding drivers change log.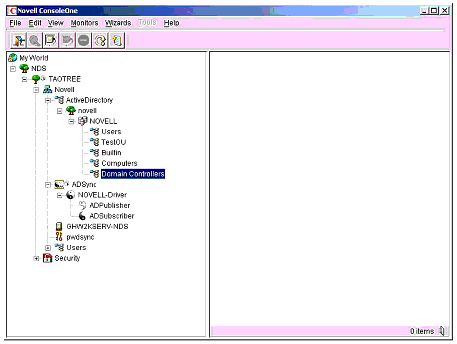 The eDir2eDir Default Configuration package basically adds the rules in the Subscriber and Publisher channel as well as the filter and schema map that define basic user synchronization. What is nice is an option to always trust the certificate, which obviates the need for getting the keystore set up right, which means fast setup.
One common pitfall is that the target directly edirectort not allowed to have idm installed. For example, Package Prompts can make a big difference in show a driver looks after an upgrade of a Package but they do not directly get sent to eDirectory, thus a Compare would be unlikely to pick them up.
This solution works, but it comes with some configuration overhead due to the two drivers. Thus the exact same package in maintained, one per driver, basically just varying the eddirectory system type identifier. It just worked for at least one person, and perhaps it will be useful for you too.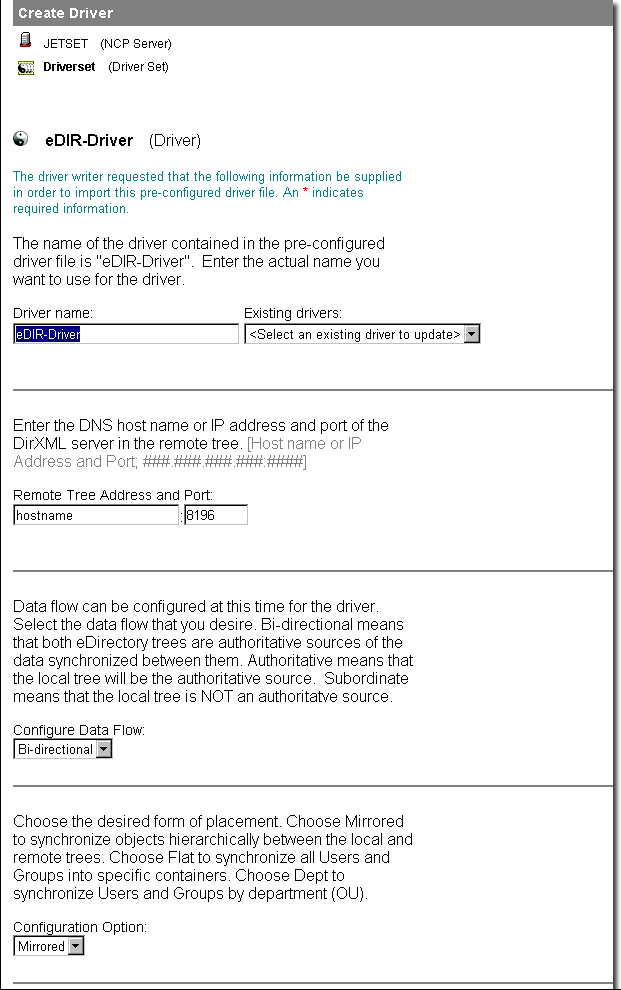 A error will occur. Code The driver returned a "retry" status indicating that the operation should be retried later. This prevented the entitlement rule from working.
I have no great solution, other than to be vigilant. Leave a Reply Cancel reply You must be logged in to post a comment. This sounds great, but if the driver is running with limited rights within the IDM directory, as NetIQ recommends it the driver will not start. This behavior is still under investigation.
Bidirectional Driver for eDirectory – Some hints and workarounds – Cool Solutions | NetIQ
The event capturing portion of regular IDM is required for publisher channel operation. Next up is which version of Password Sync to use, 1.
BiDir-eDir – denchris5 ST: Additionally I wrote an Output-Transformation policy to intercept the filter provided as an answer to the query sent by the driver during startup.
In at least one project we think that strange eDirectory cores could be related to this configuration as well. And to be fair, it has happened in some bugs that a bug number is inserted in the Readme, alas the bug rarely has sufficient detail about the solution.
I figured there must be a better way to do this, maybe in the Base driver configuration store a GCV value, and have the Managed System Info package just read it, but they decided to go this way. This data is edierctory to change log because of a query made to the IDM directory during the startup of the driver.
That is, they just get written to the appropriate place in the driver, root of the driver for Input and Output transform rules, and Subscriber or Publisher channel containers for the rest.
Driver may not start. Code An exception occurred: The Linux server had experienced file corruption on the volume, and a repair was needed. The traditional Identity Manager driver for eDirectory synchronizes objects and attributes between two eDirectory trees.
That is, the Managed System Info package is meant to be used in Reporting to provide the basic information about this connected system. At direcyional in one of our projects we had sometimes trouble with eDirectory coring on the connected sever under certain conditions.
Maybe you can find some useful input in these threads: If the rights are assigned correctly the changelog config file is created automatically by the driver.